Explore Hakone with Lake Ashinoko as your starting point.
Hakone Ashinoko Hanaori is surrounded by breathtaking natural landscapes and culturally significant sites. It also offers easy access to such destinations as the sightseeing cruises, the Hakone ropeway, museums, and golf courses. Lake Ashinoko serves as the perfect starting point for exploring Hakone.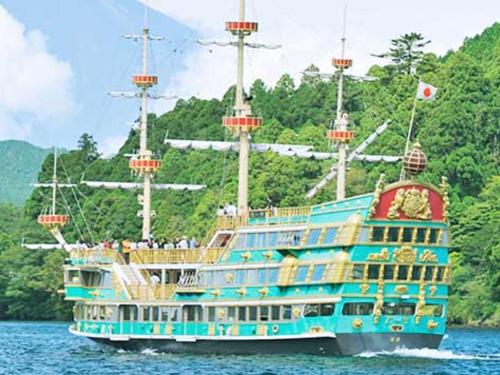 Hakone Pirate Ship
Lake Ashinoko is known for having the most picturesque scenery in all of Hakone, with its spectacular views of Mount Fuji. The Pirate Ship is one of the sightseeing cruises that take visitors on excursions around this beautiful lake. This ship tours around the three ports of Togendai, Hakonemachi, and Motohakone. Built and designed like a Western sailing battleship, you can immerse yourself in an exciting world of adventure. The ship is loaded with treasure chests and figures of sailors, giving you a chance to enjoy views of Hakone's natural landscapes in a fun and playful setting. In the Deluxe Cabin (charged separately from the passenger fare), you can experience the interior vibe of a European luxury liner while enjoying a cruise around Lake Ashinoko. Enjoy a unique experience on a sightseeing cruise that combines views of magnificent natural landscapes with the joy of an amusement park.
164 Motohakone, Hakone-machi, Ashigarashimo-gun, Kanagawa Prefecture, 250-0522 (Togendai Port)
Phone: +81-460-84-8618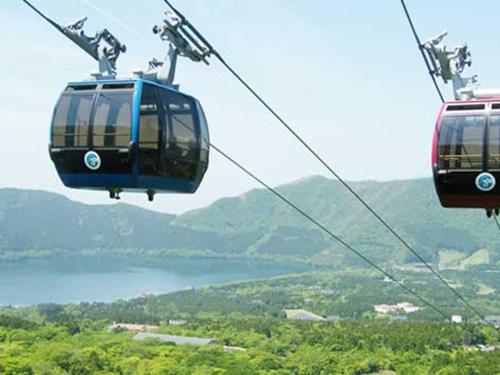 Hakone Ropeway
The Hakone Ropeway travels four kilometers in 24 minutes. It departs from Sounzan Station, where it connects to the Hakone Tozan Cable Car, and stops at Owakudani Station, Ubako Station, and Togendai Station. The elevation at Sounzan Station and Togendai Station is higher than 700 meters above sea level, while Owakudani Station is situated 1,044 meters above sea level. From there, you can enjoy unhindered views of Lake Ashinoko, Sagami Bay, Mount Fuji, and on a clear day, even Tokyo Skytree. The gondolas were shipped from Switzerland, and are stable enough to withstand winds of up to 30 meters per second. All four sides are made of glass windows, giving you a 360-degree view of the surrounding natural scenery. There is also a windowless gondola that is used to perform maintenance on the ropeway. They only operate about seven days out of the year, so if you encounter one, consider yourself lucky!
164 Motohakone, Hakone-machi, Ashigarashimo-gun, Kanagawa Prefecture, 250-0522 (Togendai Station)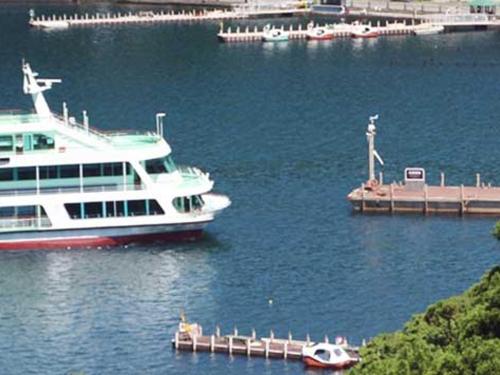 Hakone Ashinoko Boat Cruise
This cruise offers visitors a ride on a boat while taking in the beauty of the natural landscapes of Lake Ashinoko. The cruise has routes around the lake, as well as access to various areas around Lake Ashinoko, stopping at Kojiri Port on the north side of the lake, Hakone-en Port and Motohakone Port on the east side, and Hakone Sekisho-ato Port on the south side. During the Tsukinami Festival held at Kuzuryu Shrine (held on the 13th of every month), a location thought to be flowing with mystical energy, a shrine-bound boat operates from Motohakone Port to Kuzuryu Shrine. The history of this sightseeing cruise goes back to 1920, and in 1961, Japan's first double-hull boat went into commission here. The large double-hull boat that is currently in commission sways very little, and commands a 360-degree view from the observation deck. Enjoy the magnificent scenery under the vibrant sunlight and the gentle winds along the lake.
45-3 Motohakone, Hakone-machi, Ashigarashimo-gun, Kanagawa Prefecture, 250-0521
Phone: +81-460-83-6351
Gotemba Premium Outlets
This is Japan's largest outlet mall, where you can find world-famous brands from Japan and overseas. There are currently over 200 shops, with plans for expansion in the future. It is very popular with tourists from overseas due to its prime location with views of Mount Fuji, a World Heritage site. It has excellent access with its proximity to Hakone, and with direct buses operating from major hubs such as Tokyo and Yokohama.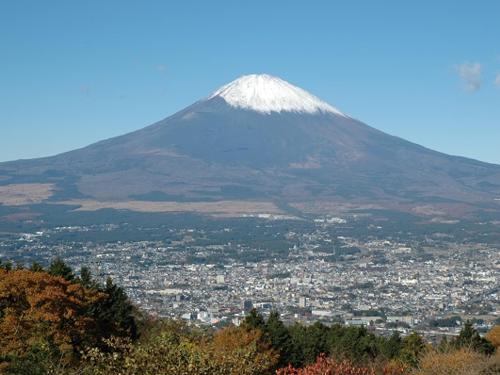 Mount Fuji
This mountain is the symbol of Japan. It is an active volcano that straddles the prefectures of Shizuoka and Yamanashi. At 3,776.24 meters above sea level, this single-peak mountain is the highest in all of Japan. With its stunningly graceful appearance, Mount Fuji has not only been the source of inspiration for countless works of art, but it also is an important geographical feature for climate and geological formations.