Large hot spring baths where you can immerse yourself in the sublime beauty of nature that transforms with the seasons
Take a deep breath—let your spirit wander the great Lake Ashinoko and the forests of Hakone. Breathe in the crisp, refreshing air while taking in the surrounding natural beauty. We have two spacious shared baths, each with a distinctive design: one where you can soak in Hakone's renowned hot springs while enjoying the breathtaking view, and another with a garden that exhibits varying, colorful features throughout the seasons. Enjoy this exquisite intertwining of Hakone's renowned hot springs and its natural beauty.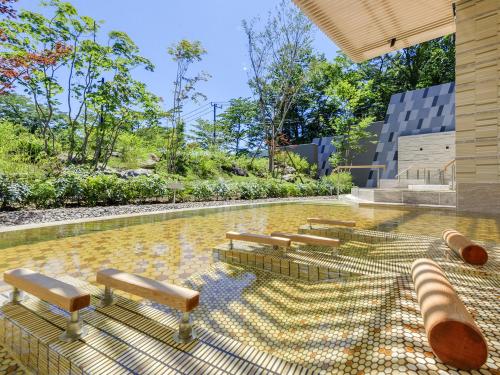 Tanayu: Open-air bath with seasonal views
Garden view
Marvel at the transient beauty of each season exhibited by the garden while soaking in the spacious bath.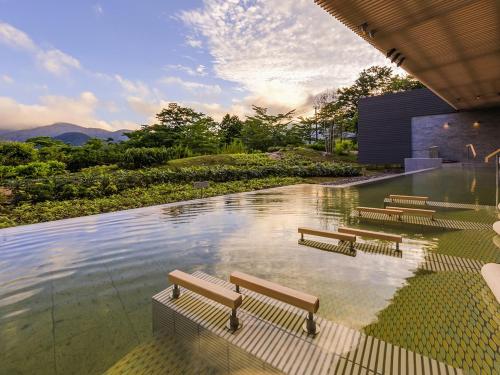 Tanayu: Open-air bath with seasonal views
Lake Ashinoko view
Soak both body and spirit in Hakone's renowned hot springs while gazing at the breathtaking scenery of Lake Ashinoko.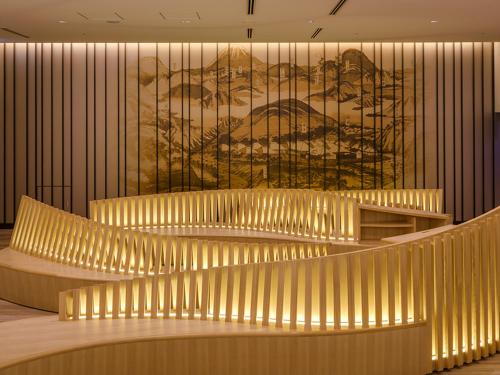 After-bath relaxing space
A rendezvous area where you can relax after getting out of the bath. With Utagawa Hiroshige's painting of the seven hot springs of Hakone on the wall, this space has benches designed to conjure images of the waves of Lake Ashinoko. We've also prepared cold water and tea—perfect after a long soak in the baths.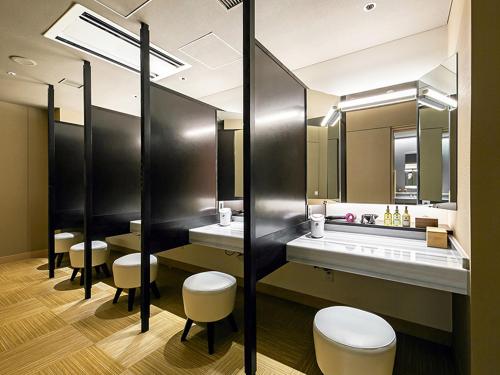 Powder room
A women-only powder room. This brightly lit room features dividers. We've also prepared skin care sets and facial steamers.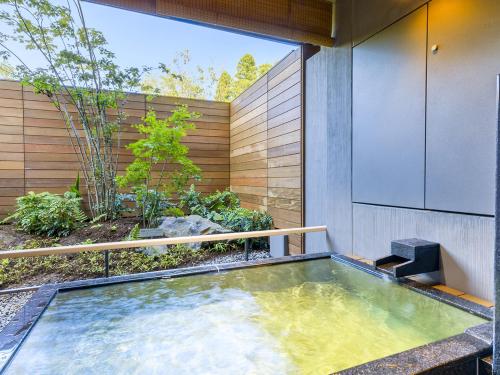 Reservable baths
The two semi-open-air reservable baths offer total privacy for guests.
Reservable bath price: 3,000 yen / 40 minutes
Hot spring source: Moto Hakone Onsen
Spring quality: Calcium, magnesium, sodium sulfate, carbonated saline spring
Effective for: Nerve pain, muscle pain, joint pain, stiff shoulders, motor paralysis, joint stiffness, bruises, sprains, chronic enteropathy, hemorrhoids, cold sensitivity, exhaustion recovery, health improvement, arteriosclerosis, cuts, burns, chronic skin disease
* There is no cold-water bath.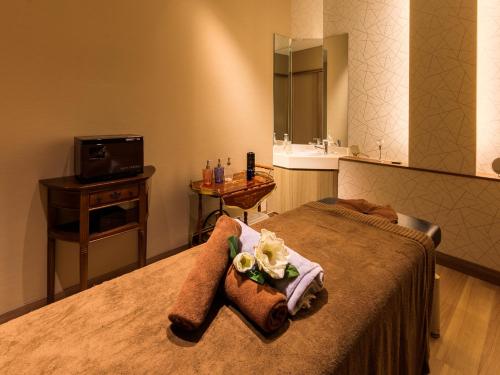 Massage and Therapy
Let the hands of a professional treat you to tranquil relaxation while enjoying the soothing ambiance.
We offer beauty treatments and relaxation massages.