Our buffet offers a sensational dining experience featuring the unique flavors of Hakone.
The spacious dining space commands a view of Lake Ashinoko in all its seasonal splendor, and transforms from day to night.
The dishes are masterfully crafted using local ingredients, such as seasonal vegetables harvested around Hakone and seafood caught off the shores of nearby harbors. The buffet-style dining experience offers unique and creative cuisine. The carefully selected tableware and the heartwarming hospitality of the staff set the scene for an exceptional dining experience—choose from the brilliantly displayed dishes that are prepared through a fusion of Japanese refinement and Western elegance to create your own plate of delight.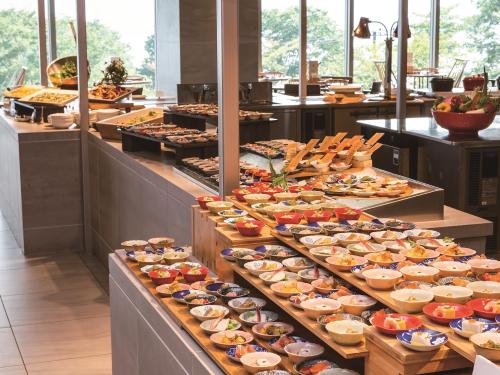 The origin of the name "Toki Shikari"
Toki (season) refers to the seasonal essence of our cuisine that is reflective of the scenery of Lake Ashinoko that transforms with the four seasons. Shikari means "just as is." Combined, Toki Shikari means "just as the seasons are."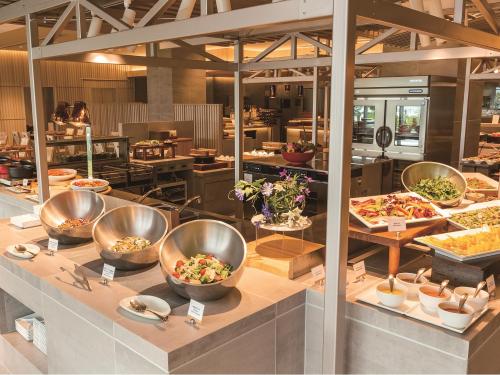 This Japanese-Western buffet features dishes crafted brilliantly by masters of Japanese cuisine, French cuisine, and pastries.
The buffet offers views of Lake Ashinoko in all its seasonal beauty.
There's something for everyone—from a filling meal, or lighter, healthier options.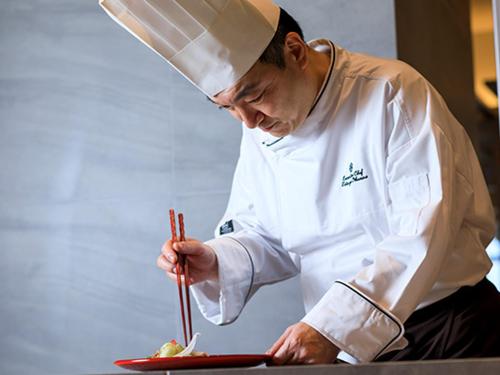 Head Chef Tatsuya Osawa
Chef Tatsuya Osawa started his illustrious career at Hotel Seiyo Ginza in 1987, and from 1995, he refined his craft in such renowned restaurants such as A Table Matsuya's "I Primi," the Italian restaurant "La Bonita," and at Roppongi Hills Club. He went on to become head chef at Tokyo Baycourt Club and at Grand XIV Hamanako, and later became executive chef at Oriental Hotel Tokyo Bay.
Guests with food allergies
At Hakone Hanaori, we prepare various dishes in the same kitchen, making it difficult to determine the possibility of allergens entering the food. Therefore, with the safety of our guests in mind, we do not have special menus for guests with allergies, or a list of possible allergens. We ask guests to consider the above, and decide for themselves whether to enjoy the food we serve. Thank you for your understanding. If you have food allergies but wish to join your group for meals, please feel free to bring frozen or microwavable meals. If you wish to do this, please let us know when you make your reservation.